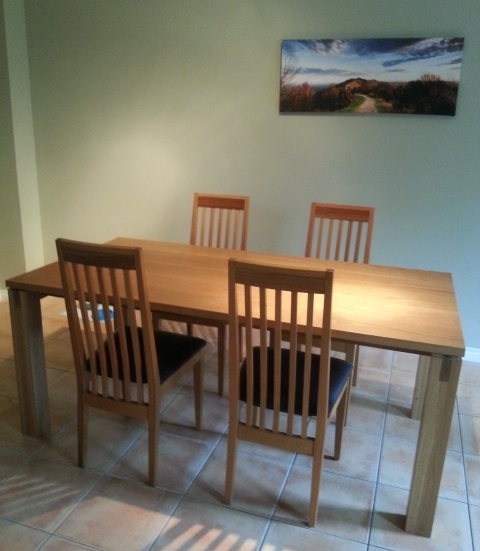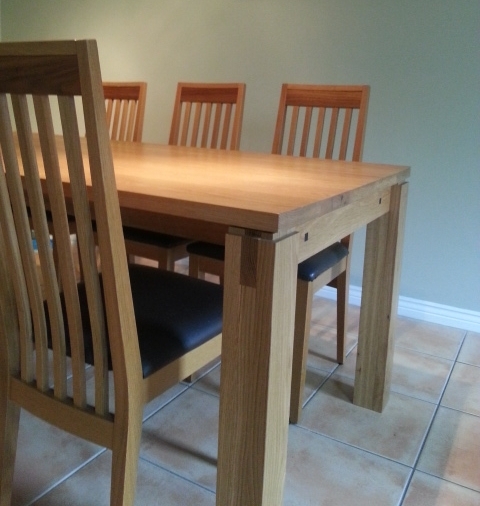 TAILORED TABLES  is a "custom made to order" service, produced a range of bespoke sizes.
The is our twist on a classic design by architects Nissen and Gehl.
Available in 5 finishes  to order in any size 
Guide prices below.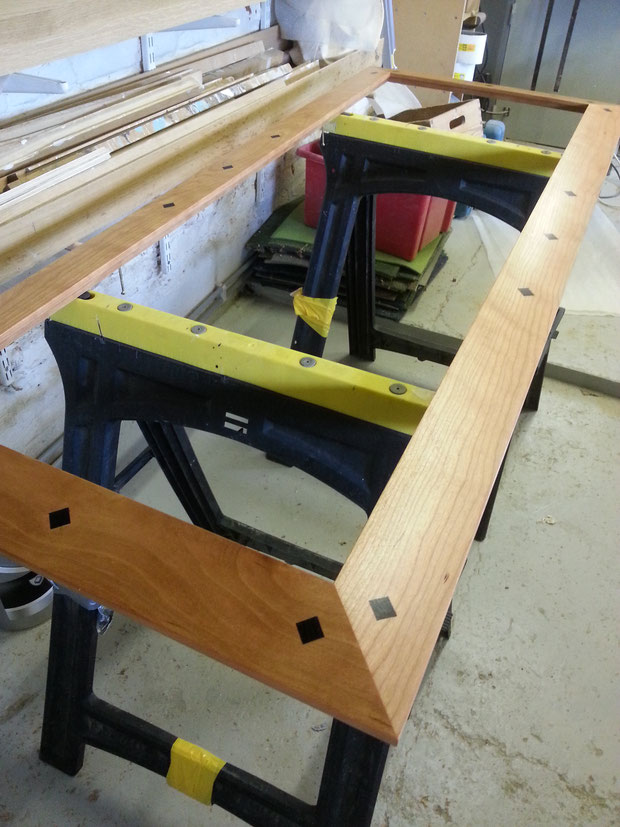 The design for our range of Russell mirrors is a homage to Gordon Russell, an inspiration to generations of English cabinetmakers. He achieved the fusion of hand and machine work, in small batches, making craft work available at affordable prices from his factory at Broadway where he "taught machines manners".
This simple design was driven by a comission in April for a large hall mirror in cherry with black walnut diamonds.
We decided to make an small additional test batch of square mirrors in english oak featuring our signature diamond inlay
which is now available from the Bristol Guild.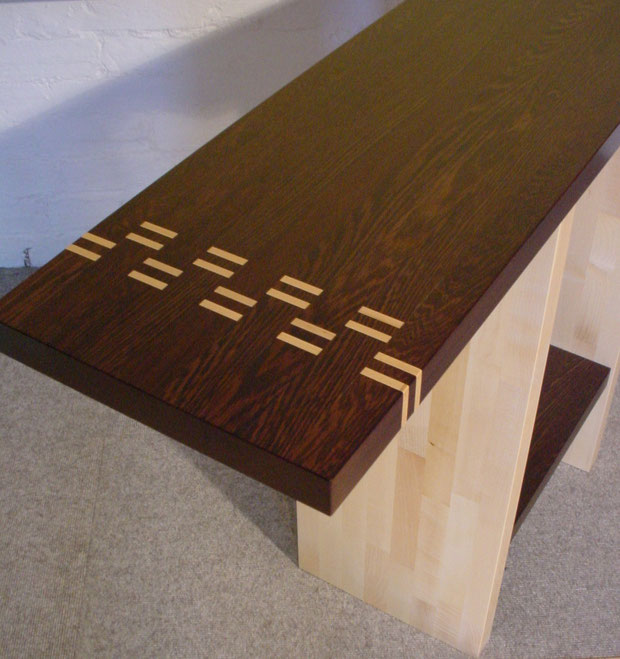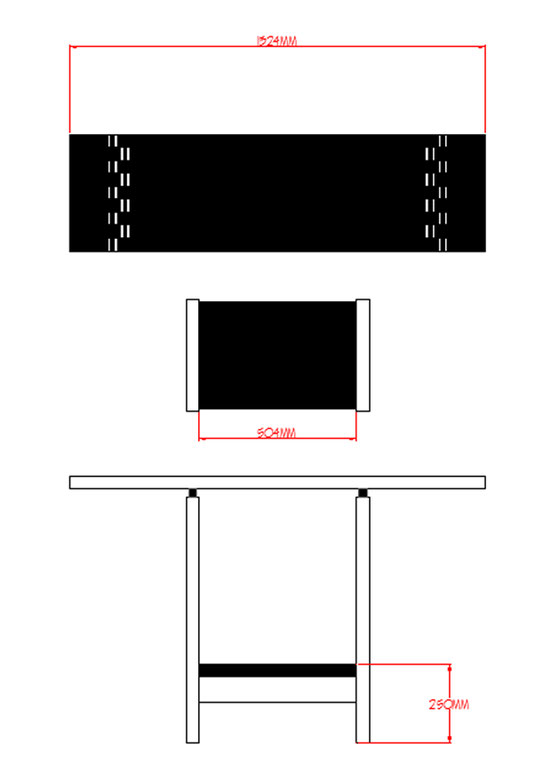 The design for the Weft range can from a long time admiration of the paper cord patterns of my favourite danish chairs designed by Niels Moller. Pairs of weft cords weave there way through pairs of warp cords to create that iconic pattern. Architectural metal fabric has a similar structure creating interesting patterns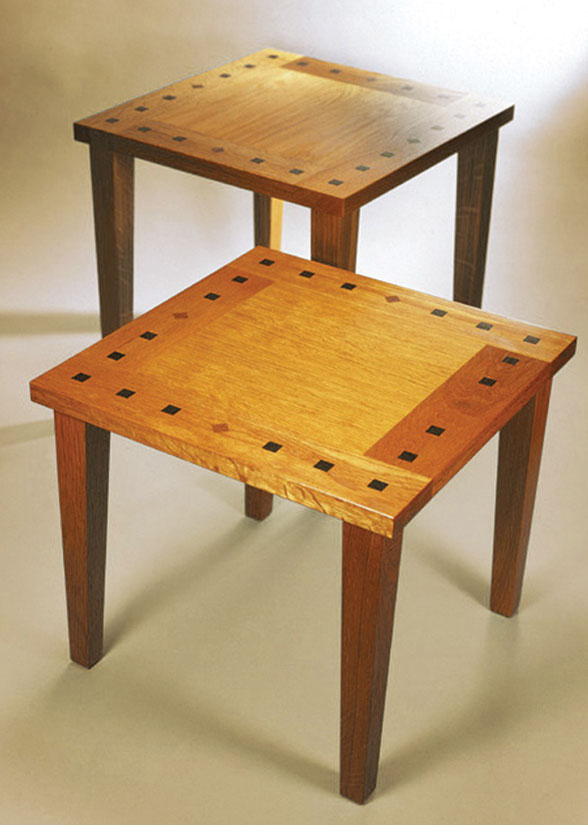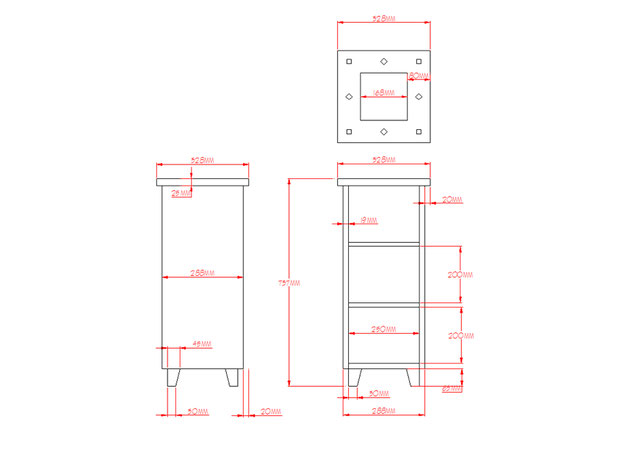 In  February we made a small batch of Arts & Crafts tables including a bespoke shoe cabinet for a client who loves her shoes.
This cabinet is to sit along side other pieces for a house in London
The cabinet has been designed to fit a particular space and to store three very special  pairs of shoes.
We are making some special inserts to protect the shelves, "shoe coasters"
The idea was inspired by an advert for the train company 20th Century Limited who in 1902 were the first to give there
customers the "red carpet treatment" by directing their customers to the trains in this now famous way. 
 We have chosen a deeper colour, blackberry which compliments the oak and walnut we have used for this piece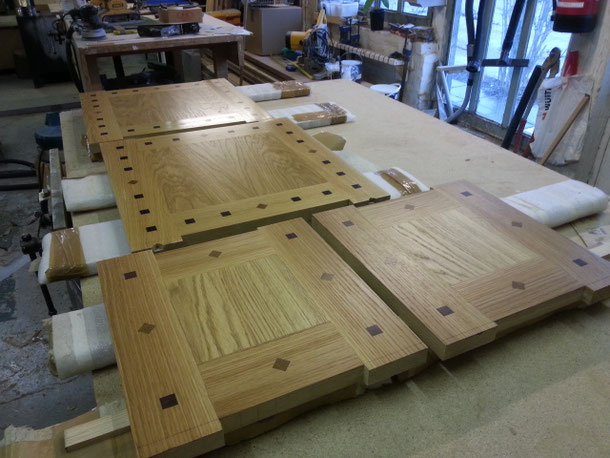 Inspired by this advert we are experimenting to incorporate a
welcome home for the shoes with a bit of  "red carpet treatment"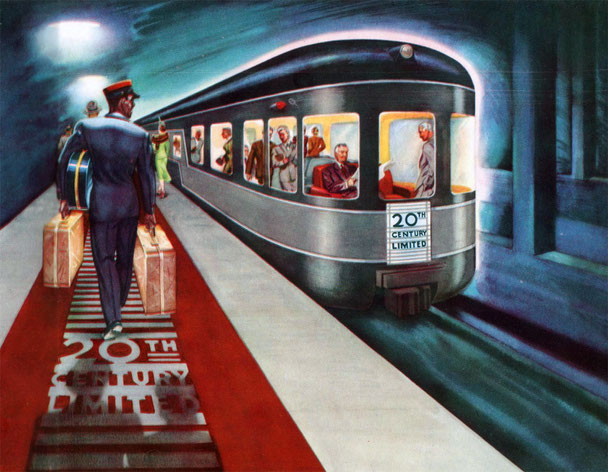 Love the inspirational pallette of colours from Tretford Carpet
and these are just the reds - there are 76 colours to choose from
making it a tricky choice 
Such an english colour and  works really well with both oak & walnut
In the workshop the "coasters" get their oak trim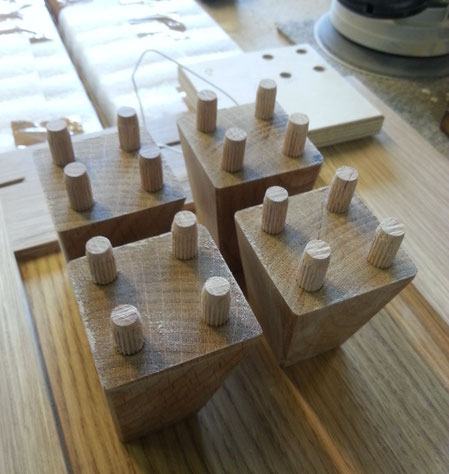 Tapered feet ready to fit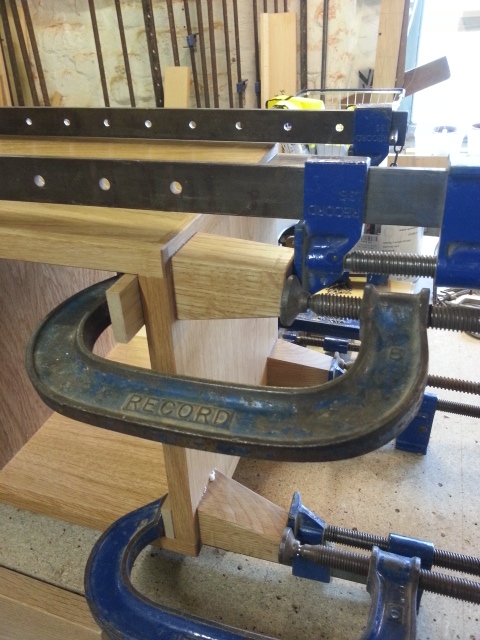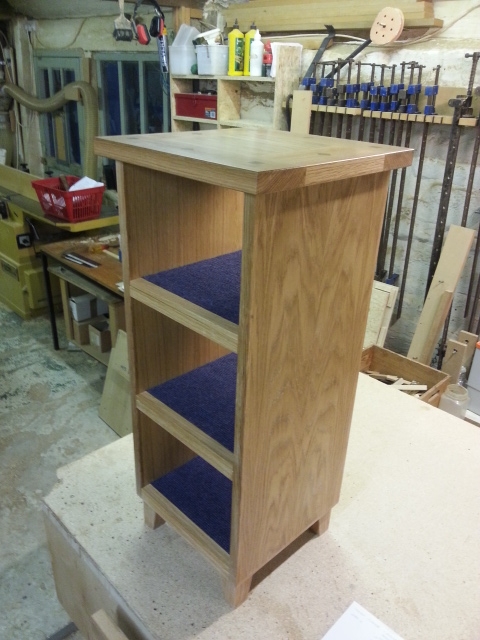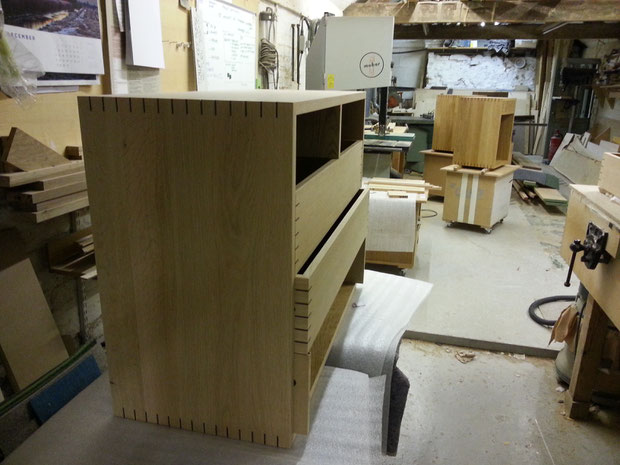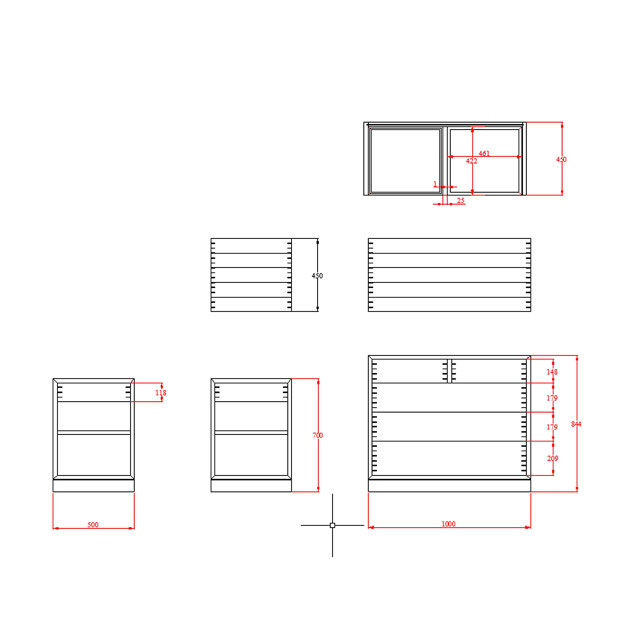 In  March we were comissioned to make a set of chests for a bedroom. The 3 pieces are matching cubes made in english oak, detailed with mitred corners and finished with wenge slips.
The cabinets have what we call "run around grain" where the grain runs all the way round the carcase and "through grain on the drawers fronts  where the grain runs from one drawer front through to the next .
They are very subtle details that need a bit of planning, but nice to achieve.
The drawer bottoms are in wenge to pick up on the corner detailing.
In December we have been preparing a limited edition batch of 35 mirrors to celebrate our 35th Anniversary.
This special batch has been made from Herefordshire oak sourced within 35 miles of my workshop sustainably harvested from woodland on estates belonging to the Duchy of Cornwall.  They will be available through select stores in London, Bristol, Cheltenham, Stockholm, Paris and New York from 2015. Please contact me for details.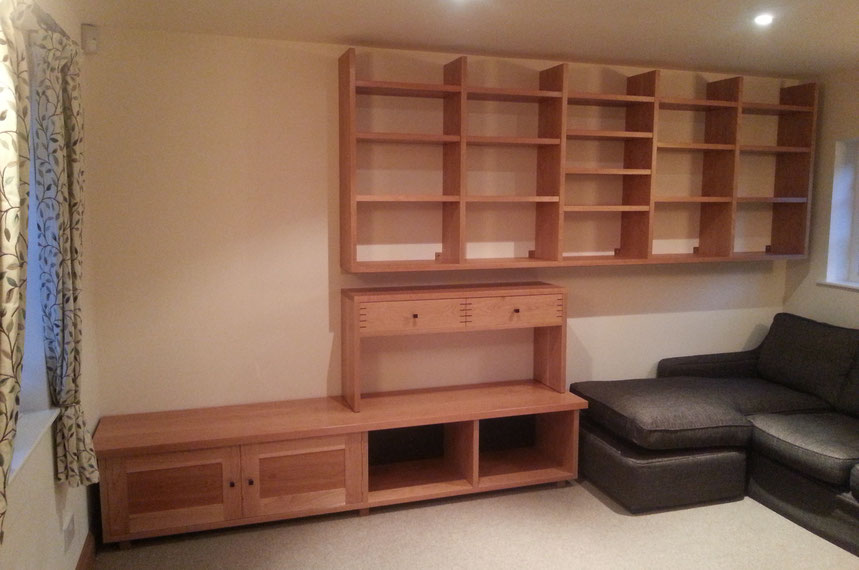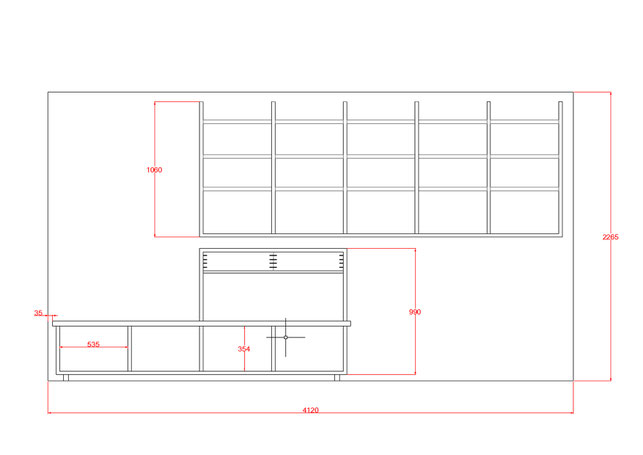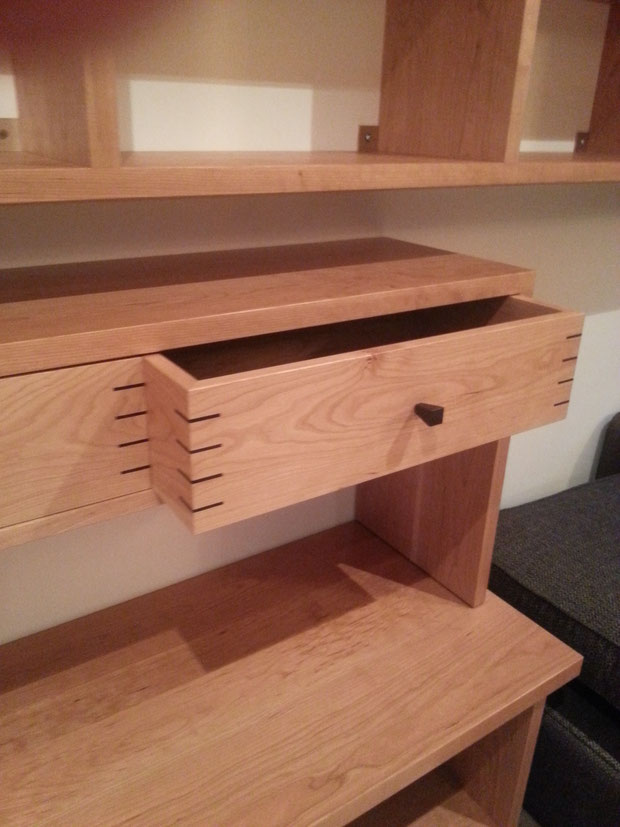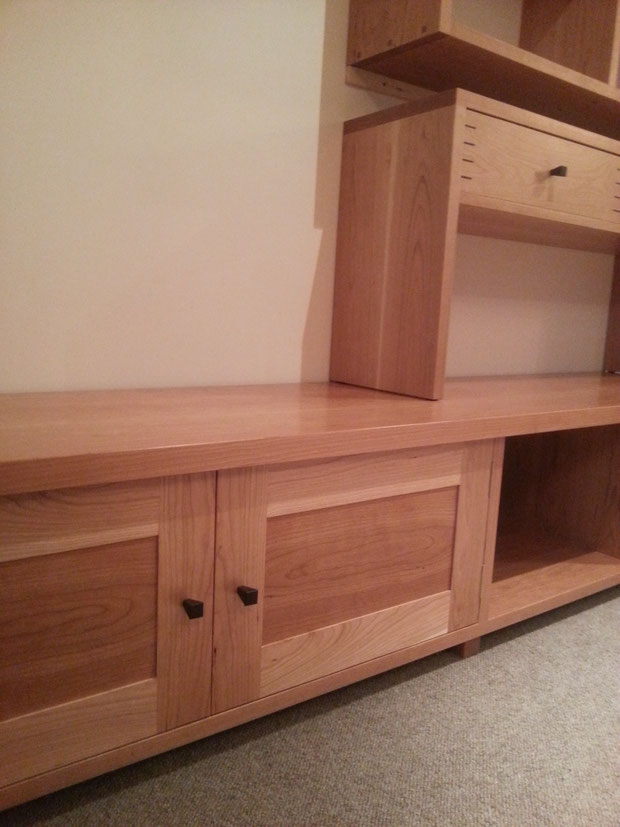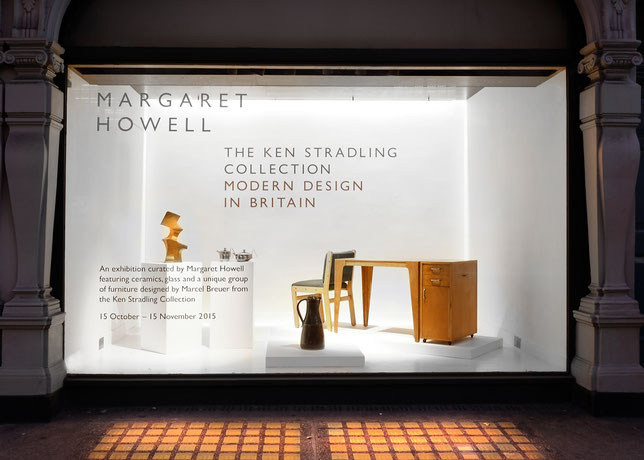 We were delighted to assist the Ken Stradling Collection restore their collection of Breuer furniture for the exhibition
"MODERN DESIGN IN BRITAIN"
at Margaret Howell London
Of particular interest was the Breuer desk manufactured by Gane of Bristol.
This must have been a culture shock for the cabinetmakers at Gane who were used to making traditional "english" furniture.
The desk, made from hollow panels of finnish birch plywood is designed more like a piece of architecture.
It has had a chequered history, at one time being cut in half, the top and bookcase section separated for some 50 years before being found in a Bristol house and being recently reunited with the drawer cabinet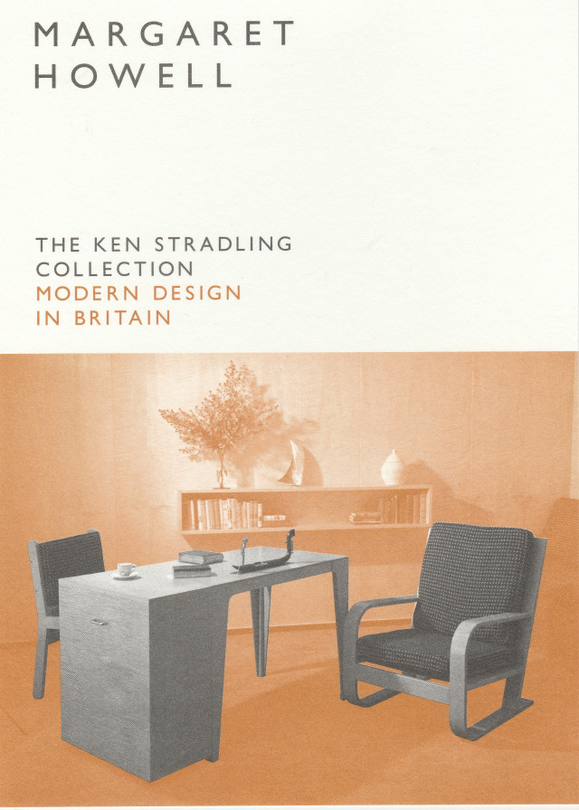 courtesy KEN STRADLING collection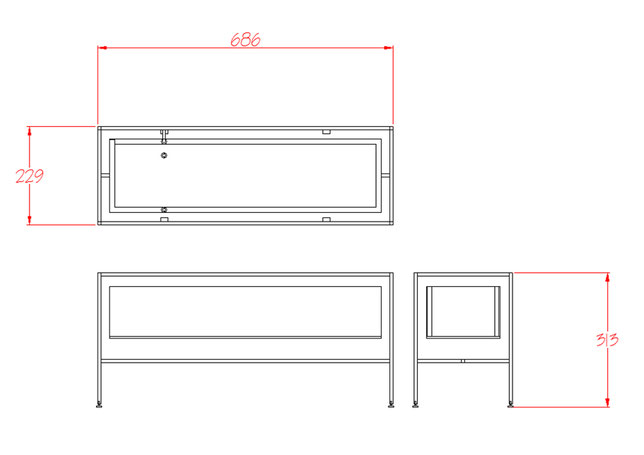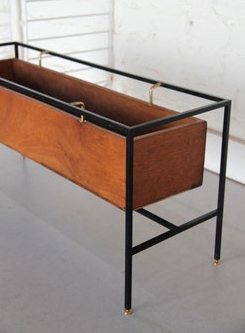 courtesy WAYHOME magazine 
We have been commissioned by the Ken Stradling Collection  to restore a Teak and steel planter designed by Bristol designer Peter Cuddon for the exhibition "MODERN DESIGN IN BRITIAN" at Margeret Howell London 
The design combines a steel frame with beautifully turned adjustable brass feet with a teak trough. The attention to detail far outstrips its function and is almost more beautiful than the plants it was designed to hold. This is why it apeals to me so much.
Like the Breuer desk it is a piece of "architecture"
Jim Low an local architect asked me if we would like to work away from the workshop to a few days in the summer. Tempted, we built a pair of screens for the outbuilding adjacent to his kitchen. It gave me an oppotunity to get outdoors as well as to use some of my favourtite materials chestnut & copper.
The space catches a gentle breeze and is ideal for drying flowers  Annies beautiful garden.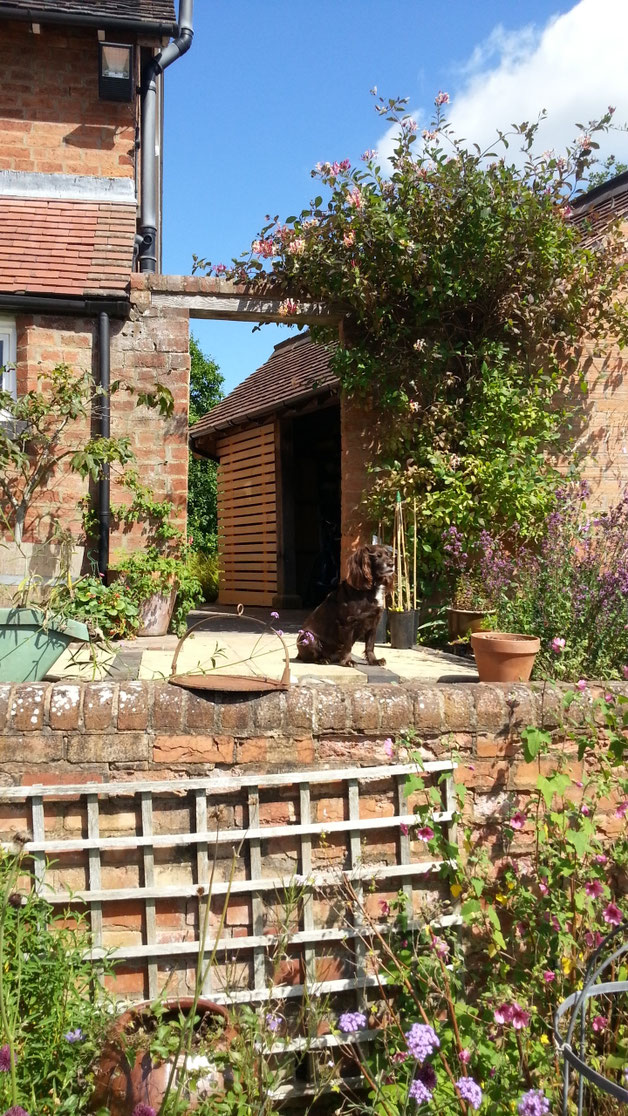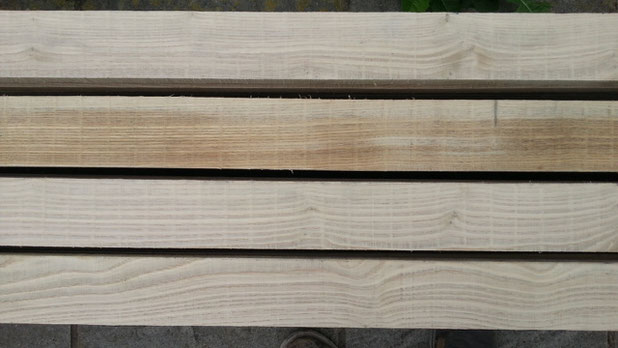 Fresh sawn boards of english chestnut air drying outside the workshop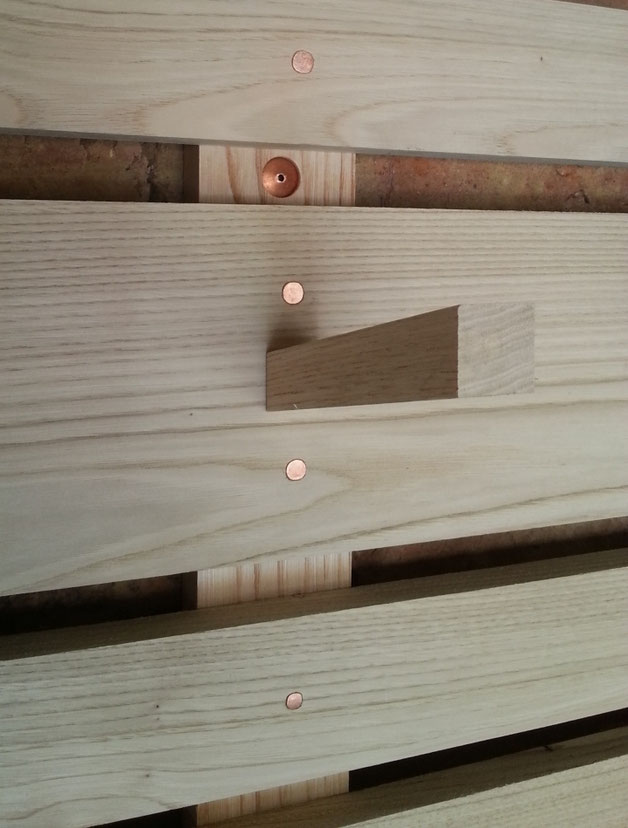 These are my favourite nails to use on exterior jobs. 50 mm 10 gauge copper boat nails usually used for clinker built boats.
They come with roves which I have used to cover the heads of the larger steel wall bolts
I have cut the hanging pegs early in the job and kept them dry in side so they can be fitted "dry" without glue. They swell up to make a tight fit as soon as they go outdoors
I've been waiting a long time to use this clever detail where the two halves of the post pinch up against the T bracket. The 25 mm diameter hole gives the "fingers" just enough flexibility. The brackets were made up to order by the local blacksmith.
The bolt is trimmed once all the boards are attached.
August this year has been hot and the fields have been harvested. Autumn is only a few weeks away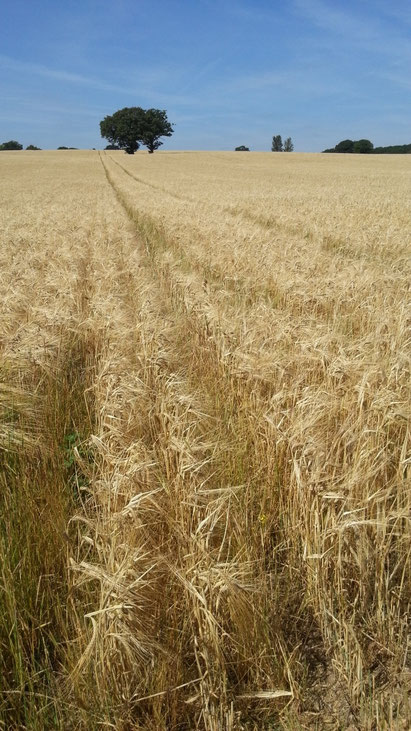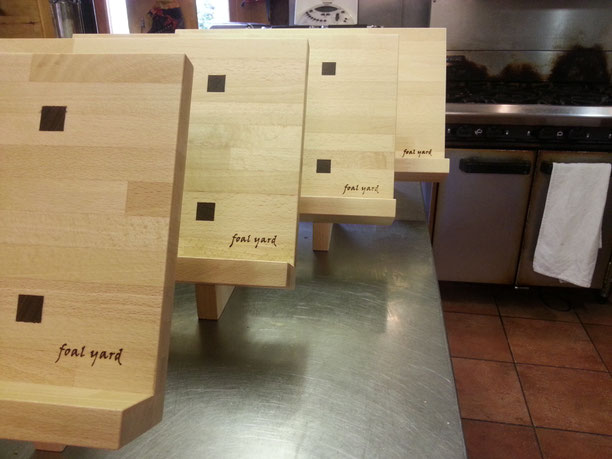 Any oppotunity to get our "foal yard" branding iron out is always taken.
This is a part of a batch of cook book stands available from the Fold Farm Shop - Bransford @ £49.50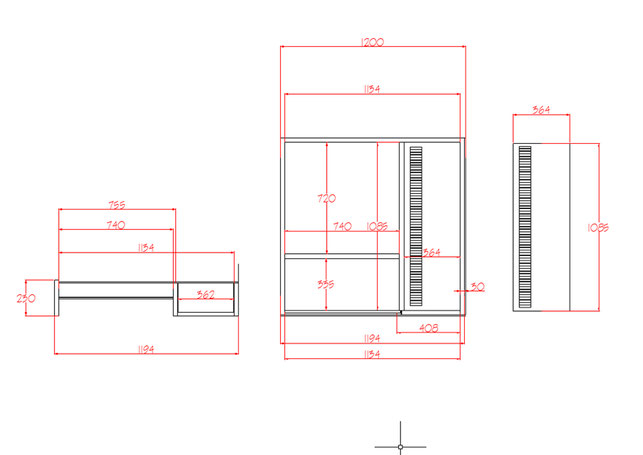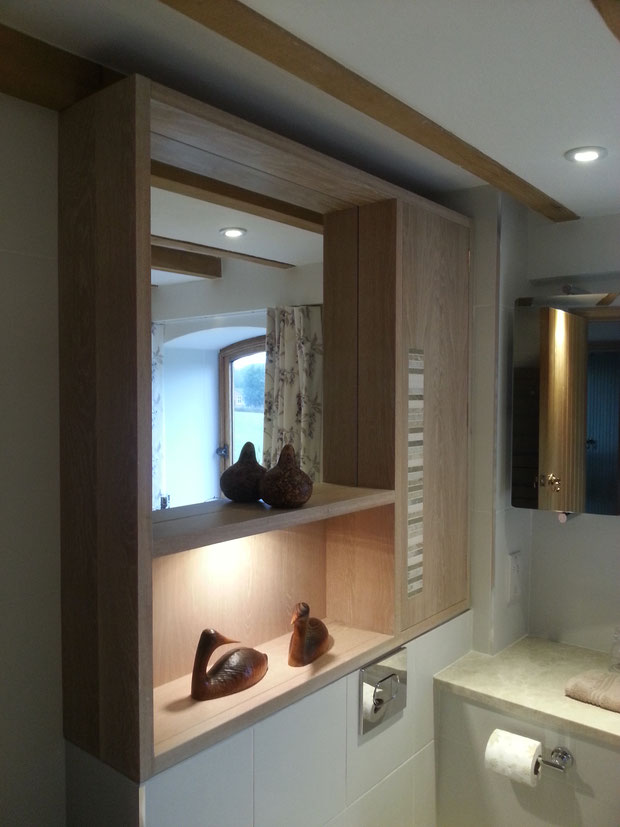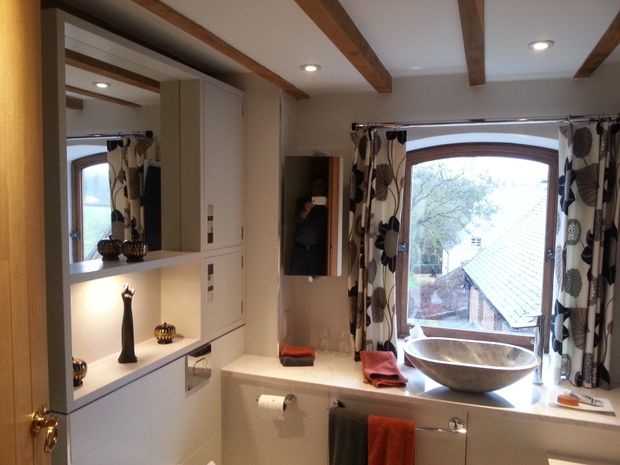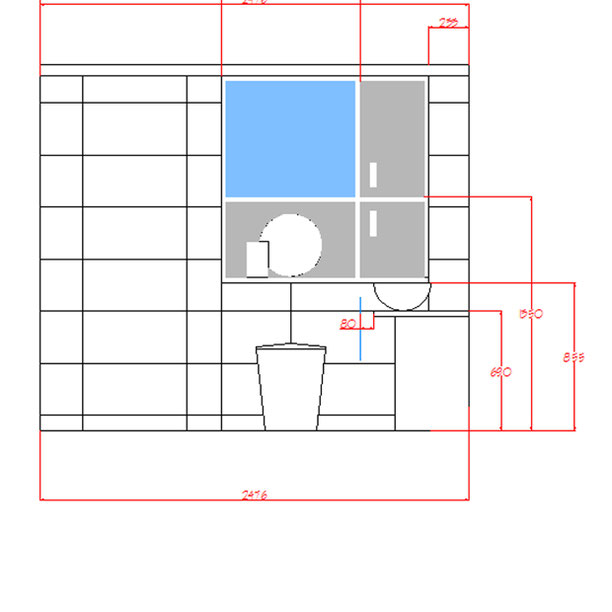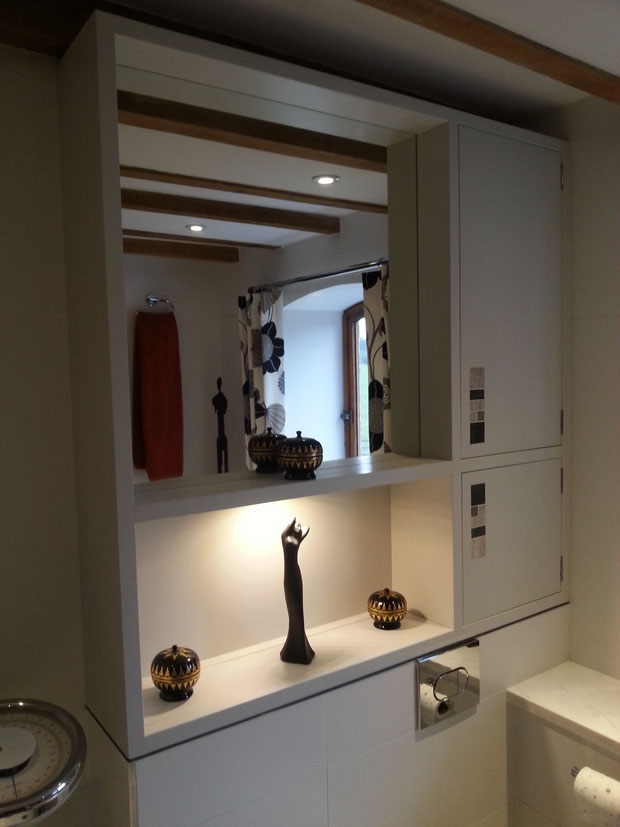 Just completed an oak table top for Richard Jackson. By working closely with Mr. Jackson, I have designed a contemporary table top with curved long edges which establishes a dynamic conversational dining experience. 

Jeremy Cornwell established his workshop in 1979 and has been making fine furniture for nearly 40 years.